Miyajima Tour Lunch Cruise
The Seto Inland Sea Lunch Cruise gives you access to both Hiroshima World Heritage Sites (the Itsukushima Shrine at Miyajima and the Atomic Bomb Dome) in one day. Take in the gorgeous views along the Seto Inland Sea as you enjoy an elegant full-course French meal, with many attractions awaiting you!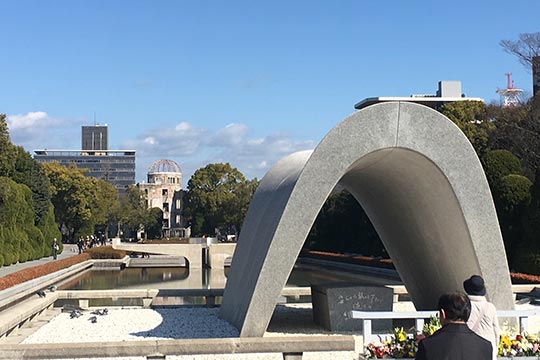 The Peace Memorial Park is located at the upstream tip of the delta formed by the confluence of the Ota and Motoyasu rivers. It is a city park established to honor the memory of the victims of the atomic bomb and to advocate for lasting world peace.
There are several monuments at the park, all of them built in hopes of promoting peace. Most notable are the Atomic Bomb Dome and the Hiroshima Peace Memorial Museum. There are also Phoenix trees that are scarred from their exposure to the blast.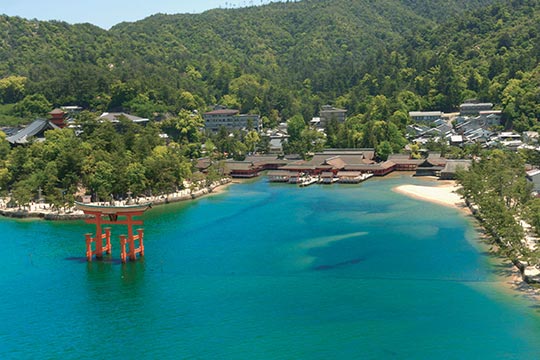 Itsukushima Shrine at Miyajima is dedicated to the gods that appeared when Amaterasu, goddess of the sun, and Susanoo, the god of the sea and storms, issued the Kendama Oath on the Takama no Hara (Plain of High Heaven). It has been revered since ancient times as a shrine that serves as protector of the Imperial Family and the nation as well as guardian of the seas.
It is known as one of Japan's three most celebrated scenic sights, along with the pine-clad islands at Matsushima and the sandbar at Amanohashidate. It was registered as a UNESCO World Heritage Site in 1996.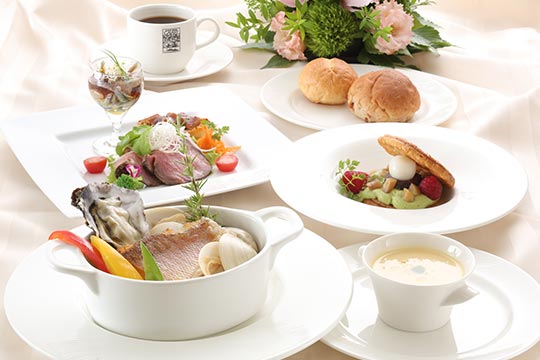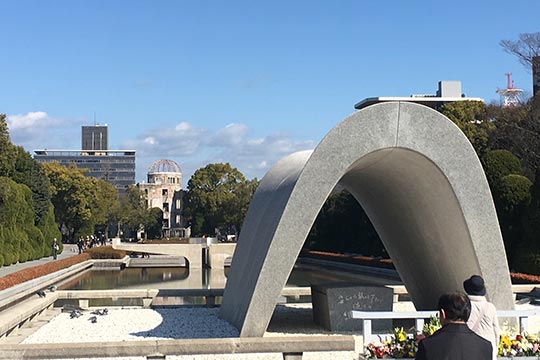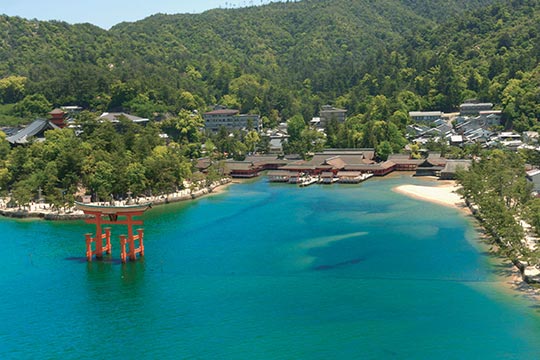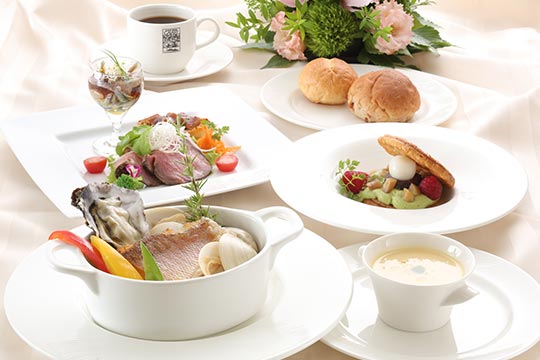 We've got you covered!
Taxi service between your hotel and Hiroshima port
Our staff will help to make your cruise a wonderful experience
Full-course French meal (Galaxy Lunch Cruise)
Onboard events to experience Japanese culture (Origami, Kendama and visiting Itsukushima Shrine)
Temporary baggage storage service at reception desk
---
Service period

March 1, 2018 through March 31, 2020

Note: May be unavailable some days due temporary service suspensions, private events, or dock scheduling.

Adult tickets

¥15,000 per person Details

Available meals

Breakfast: None
Lunch: IncludedMENU
Dinner: None

Guides

There will be no guides accompanying you at the sites. However, our staff members will be available to guide you at meeting points, in coaches, at ports, and on the Galaxy Liner.

What's included

Galaxy Liner tickets, lunch meal, taxi fare, and high-speed ship between Hiroshima and Miyajima
---
Schedule
Time

Activity schedule

8:45 AM

Each hotel

(taxi)

9:00 AM

Atomic Bomb Dome and Hiroshima Peace Memorial Museum

11:15 AM

(taxi)

11:35 AM

Hiroshima Port Ujina Terminal

12:00 AM

(Galaxy Lunch Cruise)

Miyajima Pier

1:25 PM

(walk)

Free time at Miyajima (Itsukushima Shrine, Miyajima Ropeway, summit at Mt. Misen)

(walk)

Miyajima Pier (high-speed ship bound for Grand Prince Hotel is departing at 3:00PM, 4:00PM and 5:00PM)

(high-speed ship)

Hiroshima Port Ujina Terminal

(taxi)

Hotel
---
Tickets
Adults

¥15,000

Children (elementary school)

¥8,000

Infants (age 3–5)

¥3,300
Note: Children and infants will be given a kids' meal.
---
Meeting points and times
Hotel

Location: Front lobby (the taxi driver will meet you)
Time: 8:45 AM

Hiroshima Port Ujina Terminal

Reception: Galaxy Liner reception desk (please register at the desk after arriving at the port via taxi)

Miyajima Port

Reception: Miyajima Port, Pier No. 3
Departure times: Board at either 3:00 PM, 4:00 PM, or 5:00 PM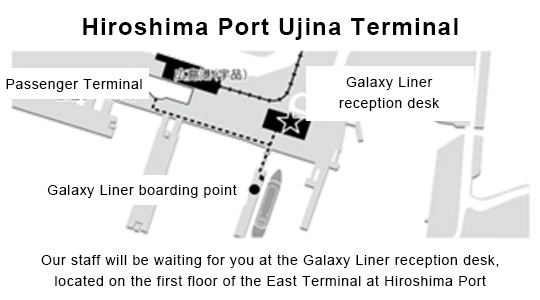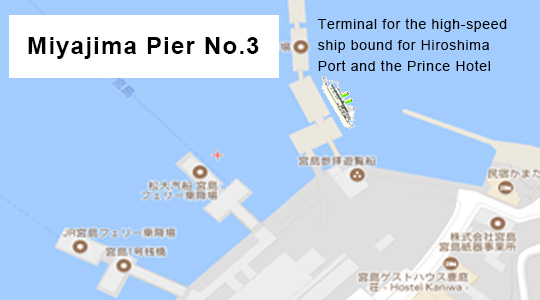 ---
Rules and important notes
Make sure to read through the following notices before reserving your package and prior to departure.
You must be on time for your taxi at the hotel. We cannot wait for late passengers.
Please wait in the front lobby of your hotel. Your taxi driver will come in and meet you there.
You may be asked to share a taxi with other guests.
Please leave all bags with the Galaxy Liner reception desk. Keep your valuables with you.
There is no assigned seating on the Galaxy Lunch Cruise.
Please indicate your main course preference (meat or fish) in advance for the Galaxy Lunch.
Beverages are available at additional charge, and must be paid for before disembarking at Miyajima Port.
Guests are responsible for their own entry and admissions fees at the various facilities and attractions.
You must board either the 3:00 PM, 4:00 PM, or 5:00 PM return high-speed ship from Miyajima Port.
Taxis taking guests back to their hotels from Hiroshima Port will depart from the terminal in front of the Galaxy Liner reception desk.